Month two at Tsedaqah House was a wonderful, very busy, truly diverse month with so much going on!! Packed full of new experiences, exciting social justice & reconciliation events and new worship leading opportunities in the life of the Cathedral, I am interested to see if we can get this all into one succinct(ish) blog post…
Now into my third month of the year's Tsedaqah experience (nearly a quarter of the way through!! where has that time gone?!), this month brings even more adventure as we host Father Kessie who is visiting from Ghana and other guests in our guest room suite; we head over with Father Kessie to the Partnership for World Mission Conference in Derbyshire on the 20th and meet the team from the US Episcopal Church and the Diocese of Virginia. Following that conference, we are hosting Rev'd Liz Edman who is arriving in the final week of November from the US Episcopal Church for her tour of Liverpool at the invitation of Bishop Paul, to explore what it means to be queer and a person of faith today.
---
In this post, I outline some of the programme of work and events that I have been getting involved with while here working for the social justice and reconciliation departments in Liverpool Diocese during the month of October.
In the 'in-depth' section I think about the nature of social justice work and also talk about our trip to a local support group for men who are victims of modern slavery and human trafficking.
An Overview of October…
Some of the work I have been involved in last month has included:
Facilitating the 'Prisons Week' lecture which runs every year at the Cathedral in October. It is a free lecture and is open to the general public, enabling the Christian community, through individuals and churches, to pray for the needs of all those affected by prisons. At Liverpool Cathedral this October it was being taken by Mim Skinner, author of Jailbirds: Lessons from a Women's Prison, which is being turned into a BBC series; I wrote an article about it for the Diocese which you can read here.
Publicising the tour of queer priest Liz Edman from the US Episcopal Church. She comes on the invitation of the Bishop of Liverpool from the US and there is a programme of events which includes Queer Faith Voices, a panel discussion with a group of local LGBTQ+ speakers who will be sharing their experiences of what it means to be an LGBTQ+ person faith today. This is at LEAF on Bold Street at 7:30pm and tickets must be booked on Eventbrite; Open Table Wigan at St John's Abram at 6pm where she will preside alongside Bishop Paul on 24th November; she finishes off her tour with 'Scandal of a Queer God' a free public theology lecture at St Bride's Liverpool on Monday 25th at 6pm. The press release that I have written for this event should be released this week which is exciting!
working at both food banks run by Micah Liverpool. As well as the food bank at St Vincent's Church, I have started intermittently working at the food bank at St Bride's Church too which is generally a much bigger operation since it is located close to Burley Court the place where asylum seekers who come to Liverpool are usually first housed. I still mostly work on the computer, putting all people who use the food bank for the first time into the system. You can read more about Micah foodbank in this blog 'Inside one of Liverpool's foodbanks'. With winter on the way and especially in the run up to Christmas, it is a busy time for the food banks. I would really encourage you to give where you can to your local food bank this season. I am really looking forward to handing out the Christmas selection boxes at the food bank when it comes to Christmas time.
attending Diocesan Synod and Bishops Council. The Tsedaqah Community has been able to lead worship and observe the proceedings at these local Church governance meetings. I certainly feel privileged to be able to gain insight into the workings of the diocese like this!
I have also been following the work of Faiths4Change a local charity focused on sustainability, social and environmental justice which is enabling Liverpool to become the first 'Eco-Diocese' in the country. This project is coming together for a Faith and Climate Change conference on November 17th during and celebrating Inter-Faith week.
I have been involved in numerous reconciliation projects concerning slavery and modern slavery too:
the Clewer Initiative, which enables Church of England dioceses and wider church networks to raise awareness of modern slavery, identify victims and to help provide victim support and care met to facilitate support for victims of modern slavery, met in Liverpool to discuss widening the network of support in the north-west of England;
and the launch of the book 'Two Triangles' by Ken Pye and Canon Mal Rogers which details Liverpool's history in the transatlantic slave trade and also documents the recent history, covering modern slavery and the work of the Triangle of Hope. It is a fantastic historical resource. I am halfway through reading this book at the moment. I was ashamed to learn of the role of the Church in funding, promoting and covering up slavery. Most shocking was the existence of a 'slave bible' given to people who were captured and forced into slave labour, it was a book developed by simply cutting out all the passages of liberation from the bible and only using the bits that saw slavery in a positive light. Such disgusting use of the bible is a hugely painful reminder of the importance and deep responsibility of biblical study and the study of theology.
The Tsedaqah Community also had the opportunity to visit a support group for men who were victims of human trafficking and modern slavery. The support group, in connection with a local art gallery, had put together an art exhibition called 'Secret Art – hide to survive'. This was a particularly moving event, hearing how their disturbing and deeply troubling stories of darkness and despair have become hope-filled and inspirational thanks to this amazing project.
We become a part of the leadership team at the Cathedral during our time in the Tsedaqah missional community. On All Saints Sunday, I was subdeacon at the Sunday morning service. I was fitted for a red Cathedral cassock last week and begin leading morning prayer and evening prayer in December! It is a really invaluable experience for me as I discern what to do next after this Tsedaqah year.
---
A bit more in depth…
On Social Justice
Dean of Liverpool, Sue Jones, gave a sermon about justice at Open Table at St Brides Church, Liverpool last month. In relation to my work here at Tsedaqah House, the whole message of which is 'to do justice,' and particularly the work I have become involved with in the department of social justice at the Cathedral, it really resonated.
The sermon focused on one of Jesus' parables 'The Parable of the Persistent Widow' (Luke 18:1-8) which tells the story of a judge who 'neither feared God nor cared what people thought' and a widow who is persistently asking 'for justice against her adversary'.
At first, the widow has no luck in getting justice, and the judge refuses to help her. She persists and persists so often and bothers the judge so much that eventually the judge agrees to see that she gets justice simply to ensure she won't physically attack him!! It is an amusing tale, with the message that persistence is crucial in the face of injustice.
The sermon ended with a question – in working for justice, do you work for justice because you know that you will win and get what you want and set out for? Or do you work for justice for justice sake, regardless of the outcome?
I found this question profoundly helpful, connecting it with the nature of working for the social justice department. Much of the work is grassroots and it can be very often difficult to see or measure the outcomes of the work – let's take for example, the outcomes of the Prison Lecture. I could measure the amount of people that attended the lecture (approx. 80), but it is impossible to measure the work of justice numerically here. Some of the hopes for change that came out of that lecture were: raising awareness of the stories and lives of women who are in the prison system, changing people's views of women in prison; providing hope to those trapped in cycles of class A drug addictions and other forms of addiction, continuing battles with mental illness, homelessness and hopelessness – these are tasks that cannot be changed instantly, but the Prisons Week lecture brings awareness and starts the conversations. So much of the work of social justice is about the social enabling of other people: campaigning for ideas to affect change; equipping and organising people; connecting communities together and inspiring the work of people in coming together for the common good.
On Support for Victims of Human Trafficking…
Towards the end of October a group of us travelled to Manchester to visit a church which holds a support group for men who are victims of human trafficking. Human trafficking is the act of illegally transporting people from one place to another, usually for forced labour or sexual exploitation. Another term for it is modern slavery.
In this photo below, after an amazing spread of hospitality, we get to meet one of the men who tells us his story. To protect him, I wont disclose any information regarding his name or where he had come from, but his story was profoundly troubling. He had come to learn English, only for the 'university institution' he was going to be studying with to turn out to be a fake university which took thousands of pounds from him. Soon after this, unable to go back home, he ended up trafficked working in a shop where all his documentation was taken off him and he would work eight hours a day, never seeing a wage, locked away at night and unable to escape for two whole years. He was lucky to escape by chance when the people who kept him captive were briefly caught off guard.
The police refer people to support groups like this. The police drive people away from their traffickers at least an hour away, but sometimes this does not work. Those in charge of the support group informed us that two people involved in the art project had been re-trafficked in recent weeks. The operation of human trafficking is an operation of vast scale and we can only hope to chip away at it bit by bit in our attempts to support those victims that we discover.
Car washes, nail bars, corner shops are common places for victims of human trafficking and modern slavery. The Clewer Initiative, has a 'Safe Car Wash App' developed by The Clewer Initiative in partnership with the National Crime Agency, The Gangmasters & Labour Abuse Authority, the Independent Anti-Slavery Commissioner, the National Police Chiefs' Council and the Local Government Association which you can download from all mobile app stores and is a resource for gathering intelligence about potential victims of modern day slavery.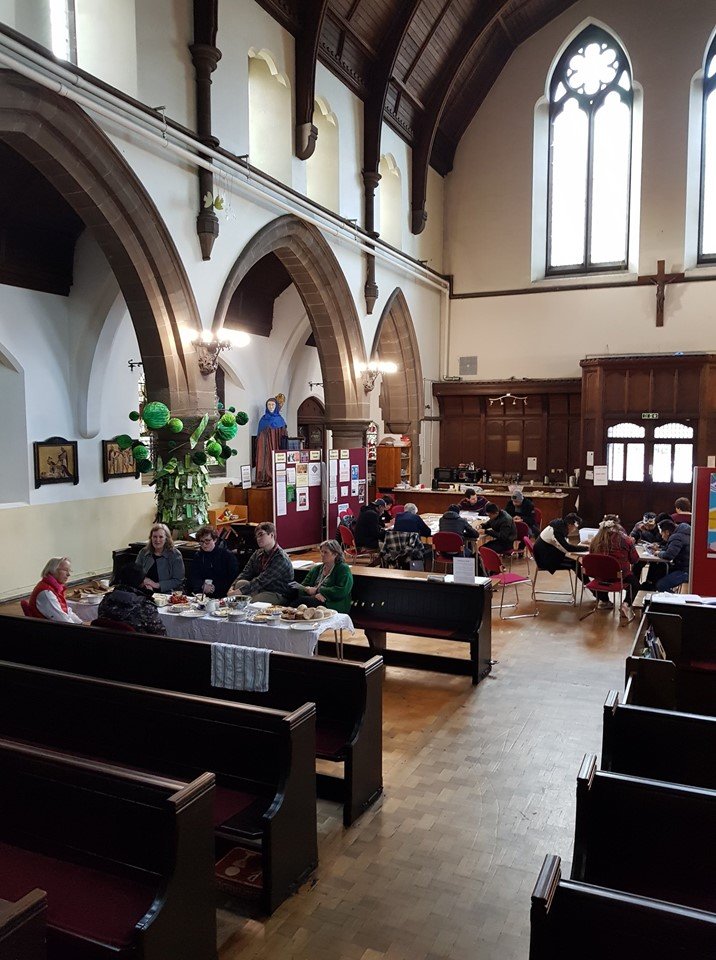 It has been a busy month, and I look forward to the busyness of November straight through to experiencing Christmas time at the Cathedral which I imagine to be very special! The Christmas programme leaflet will become available very soon, and much of the Cathedral's Christmas events are already being advertised on their social media and website. If you are around the Cathedral over Christmas, do get in touch or comment below!
Thank you for reading this blog post to the end. If you are interested in following my other posts, you can subscribe to this blog and receive notifications of all my new posts straight to your e-mail inbox! You do not need to be a member of WordPress to do this.